You will have access to WPBakery updates after updating your theme. See our guide on theme updates.
After updating your theme, navigate to Plugins from your admin panel. If there is a new version of WPBakery available, you will see a notice at the top of the page asking you to update it.

Select WPBakery and click on Update.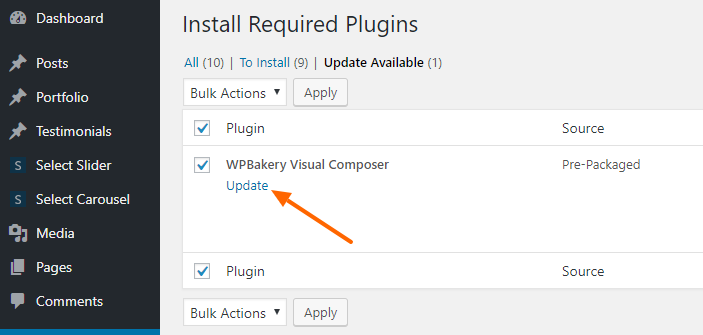 WPBakery is now updated!
If you get the error message "Destination folder already exists," then try the following:
1. Navigate to Plugins from your admin panel.
2. Deactivate and delete WPBakery.
3. You should see a notice at the top of your Plugins page, asking you to install this required plugin. Click on the Install button.

4. If this notice doesn't appear, activate a default WordPress theme (such as Twenty Seventeen) and then switch back to the Plugins page. The notice should appear now.
If you're still getting the error message, then you can delete the existing WPBakery folder via FTP:
1. Log into your server via FTP and navigate to wp-content\plugins. Locate the js_composer folder and delete it.
2. Log into your WordPress admin panel and perform steps 3 & 4 mentioned above.