1. Download the theme from ThemeForest as explained in WordPress Install.
2. Locate the theme.zip file and extract it.

Inside, you'll find a single folder: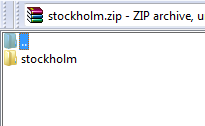 This is the folder that needs to be uploaded to your server.
3. After logging in via FTP, navigate to wp-content\themes and drop the theme folder in there.