WordPress Install
1. Log into your ThemeForest account and navigate to your Downloads page. Find our theme and click on the Download button next to it. Choose All files & documentation.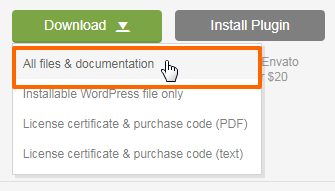 2. Extract the downloaded ZIP file.
3. Log into your WordPress dashboard and go to Appearance > Themes > Add New. Upload the theme.zip file.

That's it! Your theme is now installed and ready to activate.
What if I get one of the following error messages?
"Are you sure you want to do this? Please try again?"
"This link has expired."
This message means that the zip file is larger than the maximum upload size allowed on your server. Please ask your hosting provider to increase the following PHP directive:
upload_max_filesize = 64M;
Alternatively, you can install the theme via FTP.
"The package could not be installed. The theme is missing the style.css stylesheet."
This usually means that the wrong file is being uploaded. Check to make sure that you're uploading the correct ZIP file.
T_PAAMAYIM_NEKUDOTAYIM Fatal Error
This means that your server is using a lower version of PHP. Please ask your hosting provider to increase the PHP version to at least 5.6.